Debut author Okechukwu Nzelu told his audience at Kingston University (KU) last Wednesday that his nomination for the KU Big Read was "one of those moments in life [when] you go speechless".
His award-winning debut novel The Private Joys of Nnenna Maloney was KU Big Read's seventh novel ever chosen.
First offered in 2015 in partnership with Penguin, KU Big Read aims to make those coming to the university feel welcome before they arrive by creating links between them and existing staff and students.
KU professor in English Literature Dr Karen Lipsedge nominated the book for this year's shortlist, before the Big Read Team unanimously decided to choose Nzelu's story as this year's read.
Lipsedge said: "The novel's themes are ones we can all relate to; identity and a need to feel like you belong and are valued as who you are. These themes also speak to our values as a university."
A shared reading experience
Alison Baverstock, professor of publishing at Kingston University and founder and director of KU Big Read, said: "The Big Read started as an initiative to welcome new KU students and staff members to our university.
"Students loved it, and talked of their excitement at receiving a 'gift' from their university. We know from their responses that it makes newbies feel welcomed, accepted, giving them the sense that they have something in common."
A virtual Big Read Book Club also took place over the summer period, creating an opportunity to connect with the KU community by discussing common ground. 
Baverstock hosted the weekly discussions with a panel of academic and alumni special guests, exploring The Private Joys of Nnenna Maloney's different themes, from heritage and identity, to fashion and art.
Nzelu said: "[The Big Read] is an amazing project that will reach thousands of people in the most positive way possible; helping people settling and feeling that they belong somewhere.
"The nomination for the KU Big Read as a debut novelist has been a great opportunity for me and my writing."
First year BA Publishing with English student Jade Marshall, 24, received a Big Read book when she started at Kingston University. "The Big Read offered such an appreciated welcome gift when I started last year," she said.
The special edition has the KU Big Read logo on the front and includes a letter from Kingston University's Vice Chancellor, as well as a selection of discussion questions at the back of the book.
An interview with the novelist
Nzelu is a Manchester-based writer and lecturer in Creative Writing at Lancaster University. His debut novel won a Betty Trask Award, as well as being shortlisted for the Desmond Elliott Priz and the Polari First Book Prize, and longlisted for the Portico Prize.
Last Wednesday, KU staff members and students joined a Q&A with the author, discussing the book and its themes.
The Private Joy of Nenna Maloney focuses on themes of race, sexuality, gender, religion, identity and coming of age through the eyes of Nenna, who is set to find out more about her Igno-Nigerian father with the help of her white mother Joanie.
It highlights life at various stages and challenges the status quo, exploring the (romantic) relationships people have. The book also explores the connection between individuals "that had no idea that they need each other," Nzelu said.
"These connections provide us with something that we cannot nourish ourselves.
"Think of companionship, reassurance and encouragement, reflections of parts of our personalities that we might have completely forgotten or overlooked," he said. 
Nzelu admitted that he must have written seven or eight drafts of the book before a publisher even saw it. "So much drafting, redrafting, thinking, rethinking and rejections went into the process," he said. "An ongoing process of trial and error."
Throughout the eight years of drafting, he didn't know if someone would ever read it, or what they would think of it if they did. 
"All I knew is that I had a story and I had to tell it. I wouldn't be happy if I would leave this story untold," Nzelu said.
A dazzling new voice in fiction
Nzelu's book received appraising reviews. Carrie O'Grady from The Guardian said: "[Nzelu's book] has got a little bit of everything: young people, old people; black, white; gay, straight; comedy, poignancy. There's some north (Manchester) and some south (Cambridge).
"On this wide canvas, Nzelu has created a giant game of lost and found, a vivid picture of people seeking security and identity in the maze of modern-day England."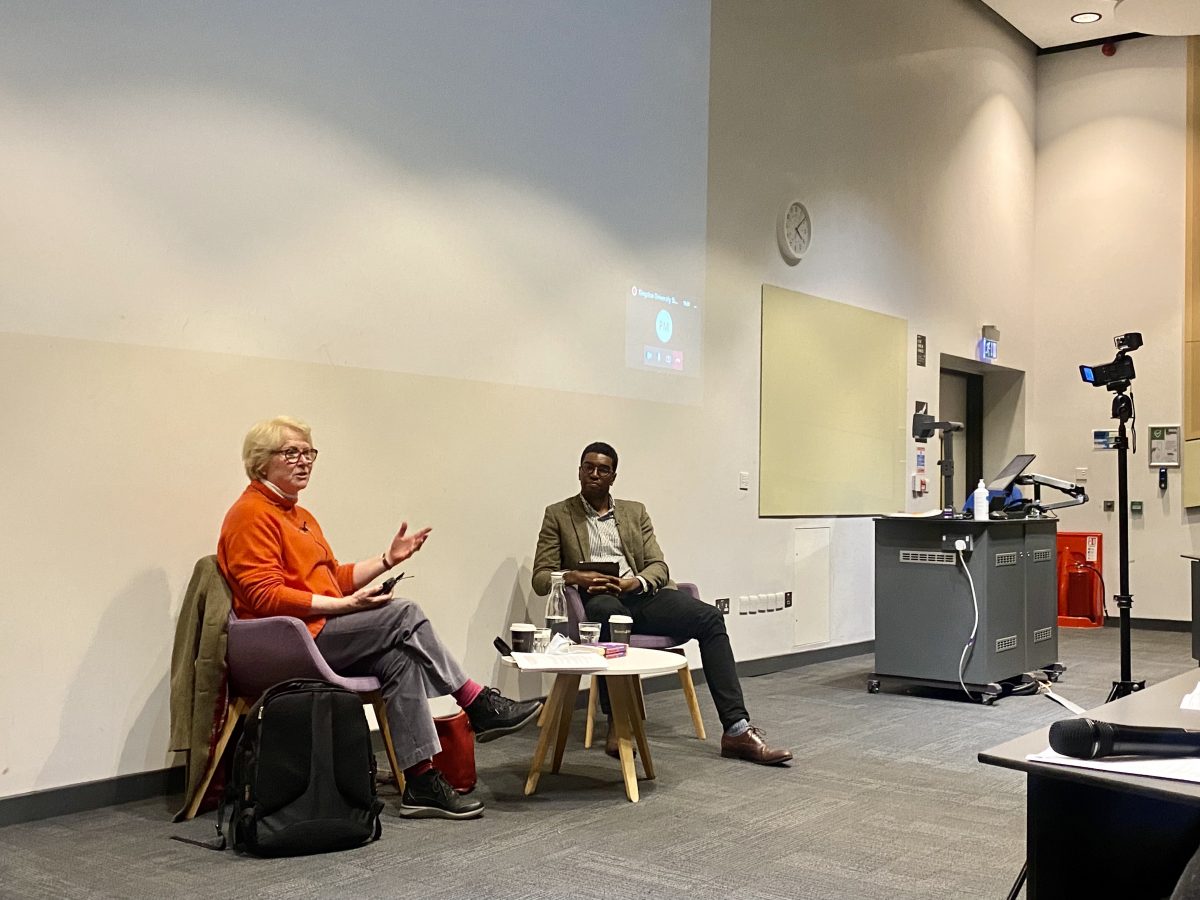 According to Nzelu, the book depicts a more honest and gentle picture of a single-parent family than is often seen in the media. "A portrayal that is more truthful and less misogynistic," he said.
"Crucial to me was to write about people that live on the edge of something. Individuals that on the basis of racism, homophobia or misogynoir, the intersection between misogynoir and racism, lack of support of their family and mental health problems, struggle with finding self-acceptance."
Nzelu's second book Here Again Now will be published by Dialogue Books/Little Brown, and made available from March 2022. It is dedicated to anyone that is still on the edge of something.
The attendees of the event had the opportunity to get their copies signed by the author. Students and staff can still pick up their own free copies on campus.