By Zora Bansah and Nesta Kupemba
When Covid-19 took away any sense of normality in March 2020, Martin, 32, had no means of communicating with anyone outside his social bubble. With lockdown restricting him from meeting new people, he turned to online dating, and found love in the middle of a pandemic.
Martin has now been with his girlfriend for a year-and-a-half. He said that the pandemic prompted him to join dating apps because "it was sort of the only way".
"When I first started using Hinge, the first date I had during lockdown was an online date and it was very, very weird," Martin said. They had scheduled to have a video call, but when the woman came on the call, she was still in her running gear which Martin found confusing, and the rest of the date continued awkwardly. He went on a few more dates until he met his girlfriend, and the rest is history.
During the pandemic, dating apps saw a surge of people joining. The pandemic and lockdown had a dramatic effect on the way people used these apps.
According to the BBC, in March, Tinder reported a record-breaking three billion swipes worldwide in a single day. Tinder wasn't the only app that saw a surge in popularity. From March to May, US-based international dating app OkCupid saw a 700 per cent increase in video dates. Even Bumble enjoyed the spoils of lockdown and loneliness, and saw its video call feature's usage increase by 70 per cent.
To say finding love online is difficult is an understatement. The one thing you can almost always count on is being a casualty in the ruthless game of love so many of us play in the hope of finally winning.
Amanda Stein*, 23, is all too familiar with this feeling. Back when she was on the dating app Hinge, she had one of the worst experiences whilst chatting to someone because she was vegan.
Stein said: "I told this guy that I was a vegan and he told me to 'f*** off'. I said 'Oh where?', to which he responded 'Back to McDonalds you ****'."
Monica Charsley, 23, on the other hand, was tired of the superficial side of online dating. She created an Instagram page called Masked Connections to tackle the lack of depth that often plagues online dating sites (looking at you, Tinder).
Masked Connections was designed specifically for the pandemic, and allows masked singletons to come onto Instagram live and speak about what they're looking for, as well as discuss what dating has been like during the lockdowns. The audience then has the chance to ask the singletons questions, and once they feel they know enough about them, the person is unmasked.
Charsley said: "The point of the show was to help people see others for who they are not for what they look like."
While Martin was pushed into the perilous waters of online dating due to the pandemic, Gassy Traore, 34, decided that it was time to try something new after healing from a previous relationship.
The first date Traore went on didn't end as well as she'd hoped. She said: "He was happy, but I wasn't." The connection they had over the phone didn't translate to reality. Despite this, they continued talking, and as they began discussing another date, things started moving faster than she anticipated and she broke things off.
The second time she clicked with someone online, the conversation flowed and things were progressing… until they weren't. His texts slowed and would stop altogether for days at a time. In more colloquial terms – he ghosted her.
Now, third time lucky, Traore has a love interest with white picket fence potential. She admits that on the first date she was apprehensive, but he managed to get her to relax, and she did the same for him. While she doesn't yet know where it's going, she is enjoying getting to know him. Traore says: "It was a bit chaotic in the beginning but slowly and surely got better."
With online dating, the possibility of love can be exciting, but safety is paramount. According to a 2017 Pew Research Centre study, 19 per cent of female users reported high occurrences of threats of physical violence on dating platforms.
With the first ever dating website – Match.com – starting in 1995, it's safe to say that the safety features within apps have been late to follow demand, with Tinder only introducing a panic button and anti-catfishing technology (currently only available in North America) in early 2020.
The online dating space can be daunting, and while at times it may feel that your thumb will never stop swiping, Martin has advice for those who are a bit green in the online dating department.
"If you're looking for love, give it a go and use an app. It makes it easier to be exposed to loads more people and find someone who is the right fit for you."
*Names have been changed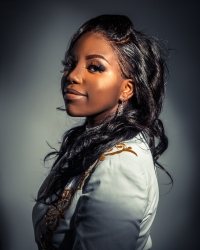 Latest posts by Danai Nesta Kupemba
(see all)