It's well and truly December: Christmas lights are up, carolers are caroling and festive cheer is all around. Families across the country have picked out their trees and are dreaming of a white Christmas. In fact, it seems the festivities have even reached Westminster, with little flecks of snow being found across the Houses of Parliament.
Except it's not quite the type of 'snow' you'd expect to see at this time of year, as traces of cocaine have reportedly been found across the buildings that house our elected officials, including in washrooms close to the prime minister's parliamentary office. Amid the government's launch of a brand new crackdown on drug-related crimes, some of Westminster's elite seem to be demonstrating that double standards are fair game in 2021.
How can the British public be expected to take the UK's latest war on drugs seriously when the government is unable to control drug use within its own walls? Hypocrisy seems rife this year, and it looks like Number 10 could be visited by sniffer dogs rather than reindeer.
A host of controversies
If it wasn't enough that upper-middle-Class A drugs have made their way into government buildings, just last week, Number 10 was accused of hosting Christmas parties during national COVID-19 restrictions last year. Despite much of the country living under strict coronavirus rules a year ago, with many of us unable to spend time with loved ones, it would appear that somewhere in the offices of the government, politicians and their employees were having festive fun.
If this particular scandal wasn't bad enough, ITV News obtained footage of senior government spokeswoman Allegra Stratton joking with colleagues about parties which may-or-may-not have taken place at Downing Street this time last year. In the straw that broke the general public's back, Stratton has since resigned.
This may be the moment when arrogance meets accountability.
Once again, the Conservative party has demonstrated that it really is one rule for them and another for everyone else.
And it's not just Christmastime when politicians seem unable to follow their own rules. Back in June, footage emerged of Ex-Health Secretary Matt Hancock's illicit affair with Gina Coladangelo during a period when the government recommended staying two metres apart from colleagues at work.
And let's not forget when the PM's senior adviser Dominic Cummings broke stringent lockdown laws back in 2020 with a trip to Bernard Castle in Durham, made worse by his infamously laughable eye-test excuse.
Anger is mounting
Each new act of rule breaking is no less painful to watch than the last. Frustrations across the country have been shared online, with critics taking to social media to articulate just how excruciating these hypocrisies are.
One Twitter user, @supertanskiii, responded to the PM's plans to strip so-called "casual" drug users of passports and driving licenses. She said: "The Tories say they'll take passports from addicts. A decade of cuts have encouraged addiction, it's a symptom of emotional pain."
Likewise, @GillDurham pointed out the double standards within the government: "Cocaine in the toilet at any normal place of work would have all drugs tested & then those found to be positive would be fired & reported to the police, the rules don't apply to them do they."
In an institution where flouted rules are in abundance, the injustice of double standards is hard for the general public to swallow. This can be no more true than in one of the most devastating social upheavals since the Second World War. Britain, along with the rest of the world, has been through a lot in the last year with all that COVID-19 has dealt us, and the country deserves better.
In the current political climate, while scandal is the captivating gift that keeps on giving, a year without hypocrisy by the elected officials whose job it is to serve the country would surely be the greatest Christmas present of all.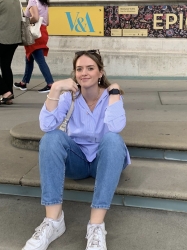 Latest posts by Hannah Gravett
(see all)