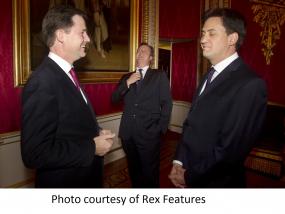 Since the political conference season has come to a close, Labour leader Ed Miliband's energy policy has been the topic on the tip of everyone's tongues.
Let's just cast our mind back to early September, the Conservatives were feeling increasingly relaxed that they could claw back Labour in the polls and gain a majority in 2015, with 'Red Ed' being the key to their success.
Then in his Labour conference address, Miliband dropped the bomb when he said: "If we win the election in 2015, we will freeze gas and electricity prices until 2017." This was after Scottish and Southern Energy, the UK's second largest energy supplier announced a price rise of 8.2 per cent, way above inflation.
With the average household in Kingston currently paying around 80 pounds a month on energy bills, a price freeze is very appealing, especially considering most wages are not keeping up with inflation.
For the first time since he became leader, Miliband has put the Tories on the back foot and presented an element of conviction to the public. But thankfully for voters whose memory can reach as far back as the last Labour government, this is not a credible policy.
Since Miliband's speech, his policy has been comfortably lambasted, noticeably at the dispatch box during Prime Minister's Questions in recent weeks. Yet the latest figures at UK Polling Report show Labour holding a 39 per cent popularity rating, 6 points ahead of David Cameron's Conservative party.
The conference season has led to what some have stated as 'the coming' of Miliband. The former Energy secretary has previously been treated as a bit of a joke by the Tories, but you can increasingly sense them becoming nervous of the electoral threat Miliband is becoming. The bolder Miliband is, the more his popularity increases, regardless of his bizarre policies. Although why the media have given Miliband's policy so much air time and little for its critics has been amusing.
Rather than 'the coming' of Miliband, it's the party spinning out of control yet again, with the old trick of selling policies for votes. Of course, this is a party whose economic agenda is set by Ed Balls, a man with fingers in every pie, including the UK's double-dip recession.
Cameron has been right to say that it isn't an 'energy policy but an energy con'. If it was such a great policy, then why didn't Miliband implement it when he was Energy Secretary from 2008 to 2010?
The problem for Cameron is that the announcement has given Miliband a march on the debate, making it look like Cameron is defending the 'big 6' energy companies, who hold an oligopoly over the UK's energy market. It also makes Cameron appear happy with the current arrangement, even though under the previous Labour government the number of energy companies shrank from 17 to 6.
Amazingly, the implications of such a policy seem to have been ignored by the national press as Labour take the electorate for fools once more. Miliband hopes the policy will be as popular as Blair's pledge on education. It's more likely to be as unpopular as the winter of discontent, a tell-tale sign of when state restrictions are implemented into a free-trade economy.
With an opposition led by the debt-inducing Miliband and Balls, it's unlikely that we will see the Coalition parties stop squabbling and produce a reforming solid energy policy as good as their fiscal policy. As Benjamin Disraeli once said: "No government can be long secure without a formidable opposition."
Sadly, we will have to wait until Wallace's wrong trousers come home before we get anything formidable from Miliband, but I will be taking Ed Davey's advice of wearing an extra jumper or two to keep the bills down while we wait.