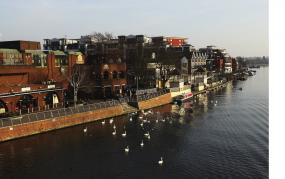 A man suspected of dealing drugs had to be rescued from The Thames as he attempted to evade police by swimming across the river.
The 24 year old from Kingston had to be pulled to safety by two officers who jumped in after him when they saw him get into difficulty in the water.
The man, who jumped into the river by Portsmouth Road at about 4pm, had been seen earlier behaving suspiciously.
Officers discovered an unknown quantity of drugs at the scene.
The London Ambulance Service was called and after an examination the man was discharged from hospital later that day.
He was then arrested on suspicion of possessing Class B drugs with intent to supply.
The man is on bail until April.
Photo courtesy of REX features