Despite preconceptions, the third feature film directed by Andy Sirkis about two alien monsters battling it out has a surprisingly heartfelt sub-plot.
Written by Kelly Marcel (Fifty Shades of Grey) and Tom Hardy, this film follows on from the first movie, Venom.
Venom, an alien symbiote that clings from host to host, has bonded with Eddie Brock (Hardy), bestowing him with incredible powers.
The return of Brock's ex-fiancée Anne Weying (Michelle Williams), and the Natural Born Killers-esque romance between Cletus Kasady (Woody Harrelson) and Shriek (Naomie Harris), were overshadowed by a 'True Romance': The bromance between Brock and Venom.
There were moments of vulnerability in Hardy's character which we do not often see in his movies.
Rather than feeding on Brock, which is what a symbiote usually does, Venom instead helps him.
A more intellectual element of the film involved Venom taking over Weying's body, acting as a counsellor between Venom and Brock.
This was a nice reference to Venom comic book creator Todd Mac Farlane's character 'She-venom'.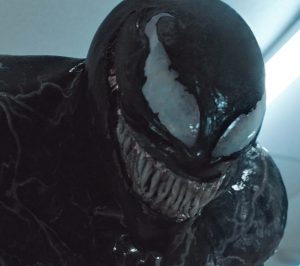 The least memorable and more confusing plot points involved the two villains Kasady, and his childhood mutant sweetheart, Shriek.
The villains were also carbon copies of perhaps lesser-known characters from Oliver Stone's 'Natural Born Killers', where two love birds go on murderous road trip through the US in a 1970 Dodge Challenger RT convertible. A car that also happens to feature in this film.
However, Brock isn't the only one bonding with a symbiote.
Kasady is revealed to be Venom's nemesis, Carnage. Carnage is just a forgetful duplicate of Venom but with red skin.
This was a heck of a ride; a film about two monsters battling it out.
Unlike the less engaging and frivolous rivalry between Brock and Kasady, as they impaled each other for the better part of 20 minutes to no avail, the true battle in this movie is Brock fighting between a normal life and a life he has to share with another being.