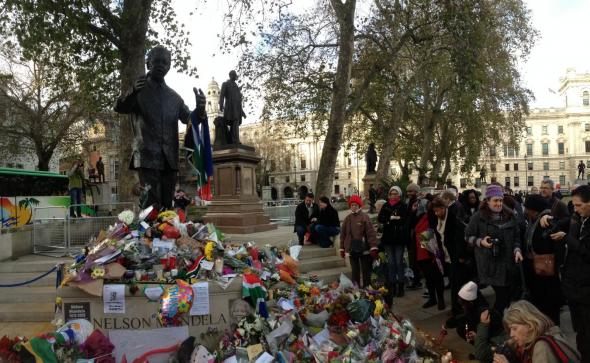 London mourns the death of former South African President, apartheid activist and "symbol of hope" Nelson Mandela.
A book of condolences, which has been signed by David Cameron, has been opened at the South African High Commission at Trafalgar Square for people to pay their respects to the former leader who died on Thursday at the age of 95.
Maite Nkoana-Mashabane, South Africa's international relations and cooperation Minister, said: "An international icon and a symbol of hope for the oppressed and marginalized people across the globe, former President Mandela dedicated his life in service of humanity and contributed immensely to the promotion of a culture of peace throughout the world."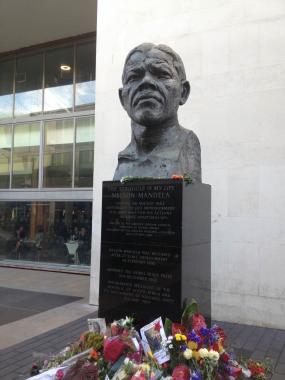 Minister Nkoana-Mashabane went on to say that the only fitting way to pay tribute to Mr Mandela would be to "emulate his selflessness and kindness", something millions do by volunteering in their community over his birthday.
David Cameron, speaking on Twitter before signing the book of condolence, said: "A great light has gone out in the world. Nelson Mandela was a hero of our time. I've asked for the flag at No10 to be flown at half mast."
After joining the African National Congress (ANC) Mr Mandela became a leading figure in ending apartheid in South Africa and after spending 27 years in prison was elected the country's first black president in 1994.
Over the last 20 years the ANC has become the leading party in South Africa but has faced criticism over its failure to tackle the country's 25 per cent unemployment rate and low economic growth.
Although Mandela has not been active in politics for some years, following his death the ANC may see their flaws highlighted as comparisons are drawn between the party now and the political ideals it was founded on.
The party's current leader, President Jacob Zuma, has announced 10 days of mourning which began with the National Day of Prayer and Reflection on Sunday.