A new study has ranked Kingston upon Thames in the 1O worst areas in the country for air pollution, with nitrogen dioxide rates above the legal limit.
The study, published by Airflow this month, analysed the UK to identify which has the poorest air quality by measuring actual figures against government targets for maximum levels.
The findings place Kingston borough eighth on the scale for poor air quality meaning that Kingston is over the legal limit of pollution.
The study also assessed the impact on pupils, with Kingston's poor air quality affecting tens of thousands of young people.
The study also found that London boroughs occupied 7 out of the top 10 worst impacted areas.
What does this mean?
Kingston has failed to reduce their ITS pollution enough in the last year, with the study based on key pollutants including nitrogen dioxide and sulphur dioxide.
In the study, Airflow said: "Children are among those affected most by air pollution. They breathe more rapidly than adults and so absorb more pollutants, plus they have smaller airways.
"Additionally, they suffer from more respiratory infections than adults, making them more susceptible to the effects of air pollution."
In Kingston alone, 30,693 pupils may be impacted by the high levels of air pollution from the 64 schools in the borough which puts these children at risk of pollutant overexposure. This can cause the inflammation of airways which can severely damage lung functions.
Airflow also emphasised the importance of ventilation inside school buildings, with a previous study linking poor air quality to poor behaviour and concentration levels.
Furthermore, data from London Air shows that many areas of Kingston are above the European Union and World Trade Organisation limits for nitrogen dioxide, a key pollutant measured by Airflow in their ITS study.
One central Kingston area (see map below) is 27µg/m³ above the EU and WHO limits of nitrogen dioxide in the air.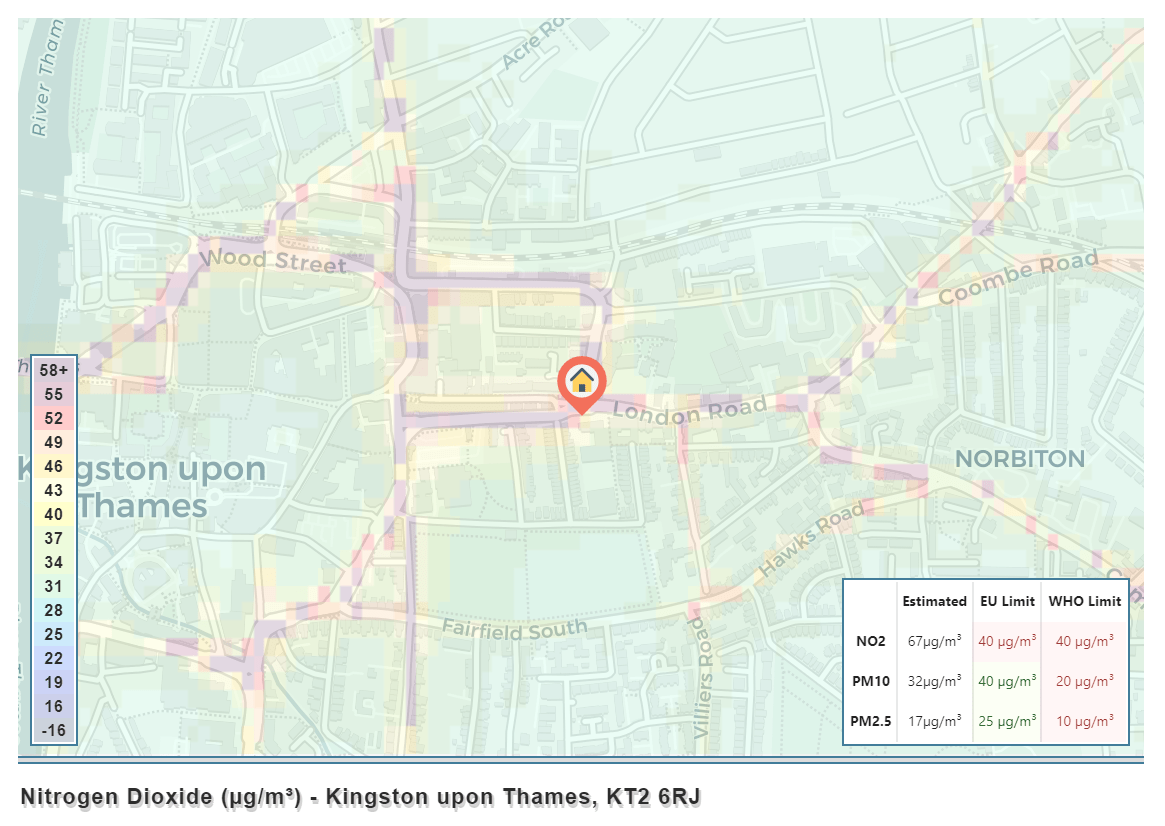 Airflow managing director Alan Siggins said: "Poor air quality, both indoor and outdoor, poses a real health risk to all people, but especially children. Their lungs absorb more pollutants as they breathe so rapidly and they're more susceptible to respiratory infections.
"This report shows that schoolchildren in cities face some of the worst air in the country."
What is being done about this?
Kingston Council has recently announced a £1.4 million grant from Transport for London to create cleaner, greener and healthier neighbourhoods.
This grant aims to enhance sustainable transport in the borough with the aim to improve air quality. Other measures include the implementation of a 20mph speed limit in Kingston's residential roads and cycle lane investment.
Councillor Ian Manders, the Portfolio Holder for Climate Action and Sustainable Transport said: "Tackling climate change and ensuring a greener future for residents is a top priority for the council. This TfL funding for local projects will help to make our streets healthier and safer for years to come.
"By striving for the best for our neighbourhoods, we can continue to transform them into welcoming, healthy spaces where everyone can enjoy a better quality of life."
In addition, the council's Air Quality Annual Status Report published in June 2022 reveals some environmental progress in the borough. This included the installation of 100 resident charge points to homes.
However, the council has failed to deliver many policies including ultra-low emission buses in Kingston and pending public consultation on maximising the quality and frequency of bus routes.
TfL's controversial introduction of the Ultra-low Emission Zone into Kingston this August will also help to reduce pollutants.
However, perhaps not enough is being done fast enough. "While these areas are obliged to have air quality action plans in place", Alan Siggins said, "more needs to be done – and quickly."