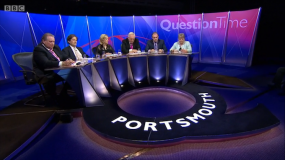 Nigel Lawson attacked Ed Davey over what he called "positively immoral" green energy policies. 
Speaking on BBC Question Time, the Conservative politician said that green policies and proposed deals around the world were leaving developing countries at risk.
He said: "I think the whole policy which Ed Davey is promoting is positively immoral. It's not going to work fortunately but is positively immoral."
"The immorality is that if you are inhibiting [developing countries] economic development, by forcing them, or persuading them to use expensive energy instead of cheaper energies, you are going to condemn hundreds of millions of people in China, India and the developing world to premature death, unnecessary disease, unnecessary poverty and destitution."
Ed Davey responded by claiming that green energies were better for some developing countries.
He said: "China is investing more in low carbon technology than any other country in the world. It has woken up to the problems of pollution and climate change.
"If you look at China and other countries, even America, if you look at what Obama is now doing, with Secretary Kerry, they are moving fast to try to reduce the carbon emissions from the US.
"That's why I think we can get a global deal, which is desperately needed. We need to make sure it allows our economies to grow and developing counties to grow too."
Other issues discussed on the programme included the loss of jobs in Portsmouth, the sentencing of a marine and Typhoon Haiyan.
There was however no talk of rising energy bills in the country or Ed Davey's speech on Tuesday where he challenged the energy companies.