Bentall's in Kingston will host mask making Wednesday, October 30 and stage makeup Thursday, October 31 in the third floor Toys section.
Eden Walk will also have mask making on Halloween Day. You will be joined by Hawk On The Wild Side, who will be there in the afternoon with a selection of owls on display.
Bead Time shop in Kingston will host several workshops for children on Halloween to make their own Halloween-themed jewelry. Each class is one hour. The £10 class fee includes all class materials and a 10% discount on any purchases made after the class. Contact Kingston's Bead Time shop at 02031660046 for a booking.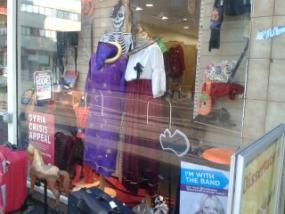 Pumpkin carving, one of the most celebrated parts of Halloween, will be happening all over the local area, including Kew Gardens, and Osterley Park and House and the WWT Wetland Centre in Richmond-upon-Thames.
The Painshill Park Trust in Cobham, Surrey, will have 5 day-long events for children ages 8 to 13 including den building, treasure hunts, crafts and campfire cooking. Visit the Painshill Park website to book.
Claremont Landscape Gardens in Esher also has a full week of fun Halloween-themed events for children, and admission is free all week for children dressed in a Halloween costume.
For a fun family day out, just outside the M25 near High Wycombe and Beaconsfield is Odds Farm Park, with special Halloween events for your very little ones, including spooky magic shows, the Black Cat Trail, a new "Boo Barn" and pumpkin carving. For more information, you can phone Odds Farm Park at 01628 520 188.
Winkworth Arboretum in Godalming, Surrey, will host Halloween-themed events the entire week of Halloween, and the family dog is welcome to join.
Dogs are not left out of the Halloween celebrations! The All Dogs Matter charity will host it's annual Halloween Dog Walk Sunday, October 27 starting at the Spaniards Inn in Hampstead Heath, followed by a fancy dress competition for dogs and owners. For more details, visit alldogsmatter.co.uk . Registration is required. The entrance fee is only £5 per dog.
Halloween is for adults, too! The Stanley Picker Gallery at Kingston University will host a special party Halloween night to celebrate an on-going book project on the literary and cultural impact of Bram Stoker's Dracula. Visit the Stanley Picker Gallery's website for more details.
The Albert Pub in Kingston will be showing a scary movie on a cinema screen in its courtyard Halloween night. Go on Twitter to vote for which scary movie you'd like them to show. @THEALBERTKT2
One of the most famously haunted places in England, Hampton Court Palace, will hold ghost tours on Halloween evening through Henry VIII's apartments and courtyards, including the Haunted Gallery. (Tours more appropriate for children are also available.) Booking is required.
Meet at the Market House Halloween evening for a tour/walk through Kingston and learn about the town's haunted history. Tickets must be purchased in advance. Call 02085471221.
The Kingston Night Market is a family-friendly event with Halloween-themed food, drinks, stalls and sideshows running from 5:30-10pm October 31. Bring the kids and enjoy trick or treat fun for everyone!
For the more adventurous, there will be a Fright Hike, a 30km walk through Epping Forest and Sherwood Forest, a great opportunity to support your favourite charity while keeping your eyes open for ghosts said to haunt these woods.
Have a fun, safe and frightful night!