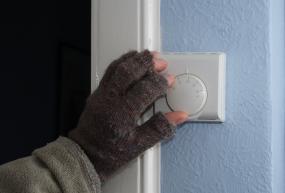 Edward Davey has pledged his support to Mind The Gap, a cost of living charity that offers help to those affected by the current economic situation.
The campaign, which focuses on the growing gap between income and bills, offers advice to help manage costs and puts struggling families in touch with schemes that could potentially help.
Mr Davey, MP for Surbiton and Kingston, said: "It's vitally important that people realise that help is available to help manage energy bills. I encourage anyone that is worried to take action and use the six steps to manage their bills in the Turn2us campaign.
"There is also help from the Government to help hard-pressed families keep their energy bills down.
"We've already announced plans that will save customers around £50 on their energy bills, and there is direct help through the Warm Home Discount, Winter Fuel Payments and Cold Weather Payments."
Turn2us, the charity which run the campaign, found that 74 per cent of people are worried about paying their energy bills this winter.
Of those who struggled with these costs last winter, over two-thirds (70 per cent) suffered stress as a result and over a third (34 per cent) were forced to cut back on food or skip meals.
Alison Taylor, director of Turn2us, welcomed the new support from Mr Davey.
She said: "It's great to receive the support of Ed Davey MP for our 'Mind the Gap' fuel poverty campaign.
"With the cost of living steadily increasing, people feel like they have no option but to borrow money and cut back on essentials to cover costs.
"It's therefore vital that more is done to highlight these issues and the Energy Secretary's support of Turn2us is invaluable in helping us to raise awareness and reach more people who are struggling this winter.
The steps offered by the campaign include help with calculations and searching for grants, advice on being more energy efficient and reducing you bills, and checking your current tariff.
Kingston Council has made several steps to combat fuel poverty, including a recent conference and the issue is high on its agenda.
Liz Green, leader of Kingston Council, said: "Fuel poverty is very much of concern to the Lib Dem administration.
"We have several ways that we help residents and it was discussed how we bring these areas of work together at a recent meeting between lead councillors and senior officers."
Kingston Voluntary Action ran a one day conference on the issue of fuel poverty last month, with both Mr Davey and Cllr Green speaking.
Kingston Council has also commissioned Thinking Works to run workshops throughout the borough with housing council officers and front line staff, with the training enabling them to better understand fuel poverty and why it is an issue.
Turn2us' fuel poverty page has all the details should you find yourself struggling this winter.
Image courtesy of Philip Dunn/REX