Shepperton resident Maxine Stinton fell out of love with the River Thames when her house flooded -all she wanted to do was get away from it. But lockdown has made her appreciate the beautiful scenery on her doorstep and enabled her to create prints to celebrate the community.
The River Thames was somewhere that artist Maxine Stinton went to seek solace. When she saw a little shack on an island in the Thames advertised on the housing market, she and her husband fell in love with it. They spent a couple of years rebuilding it and living with limited facilities.
"Slowly we fell more and more in love with the place, it's just lovely to have the river next to you," Stinton said.
However, five years ago the house flooded. "That was absolutely horrific, just awful. It destroyed the house we'd built," she said. "It was horrendous, and I well and truly fell out of love with the river. I just couldn't bear to be there. I just spent my entire time looking at other places to live in because it was just the most stressful experience.
"And then, very slowly, I started to kind of fall in love with it [the river] all over again. But it's really lockdown that made me properly fall in love with it because I realised why am I feeling this? Look at what I've got outside, it's just 'beautiful'. It's lovely."
'Wrong place for me to be'
Stinton, who still lives in the house on the island, had a successful career in magazine editorial and launched her own publishing company with a partner producing a children's magazine, Storytime Magazine, for 10 years. In autumn 2019 she decided to exit the company.
"A few life crises made me stop and think about what I was doing and realise that actually I didn't know what I was doing in publishing, and I didn't really feel very passionate about what I was doing anymore. I didn't feel like that was fair even though I really enjoyed the actual magazine we launched and loved it. I realised it was the wrong place for me to be," she said.
Stinton continued to work in publishing for five months overlapping with the start of the national lockdown in March. However, she was working long hours and was not enjoying it. She said: "This is not what I really thought I'd be doing when I was 18. I'd always sworn that I would be an artist or graphic designer or something like that."
The pandemic allowed her to take a step back and explore her artistic roots. "I did something really indulgent; I gave myself a very tight budget to survive on and decided to explore what I want to do without putting pressure myself."
During this time, she completed a course on Adobe Illustrator which is something she had wanted to do for years but had not had the opportunity to do. "That just kind of took me back to my roots. I felt like I was home," she said.
Stinton started a project painting a mural to decorate her mooring. "I spent weeks painting a massive letter mural in very bright colours on my mooring. I thought, oh my god I'm so happy, covered in paints because this is where I'm meant to be. I just took the pressure off myself and did what I wanted to do suddenly I thought 'oh I love this…it just feels right'," she said.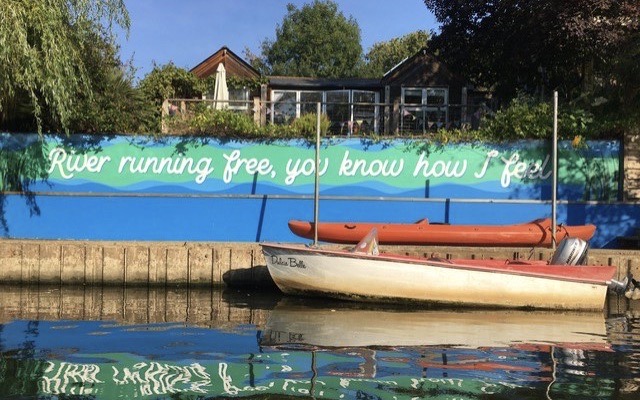 She was not the only one appreciating her surroundings during the lockdown. Once restrictions were lifted, Stinton said she had never seen the river so busy and people "were starting to see what they'd got right on their doorstep".
Seeing people having a great time made her think "how could I possibly not be in love with this. People are getting so much joy from it". She describes her story with the river as a 'love-hate-love' relationship. "Living next to it, it's just unavoidable but it is the thing that inspires me most," she said.
Stinton has produced two contrasting styles of prints based on the local area. She started creating designs in June and finished her first print, which she felt confident about, in September. They are about "getting engaged with life by the river, and local community and appreciating what you've got," she said.

"One good thing that's come out of this awful Covid year is community spirit," she said. "I wanted to make a print that celebrated our local area, not just the lovely stuff around here, but all the events. I wanted to cram it all into one print."
'Reminder of what we've got'
Stinton said: "I just really hope it makes people realise what they've got. It's been really nice to kind of collect the special elements about each community and put them in the prints. And that's a response I've got from locals just saying this is lovely. It's a reminder of what we've got. But it's also a reminder of what they can look forward to."
She created a design for Shepperton, and her friends in Teddington and Twickenham saw her designs and said they wanted ones for their areas too. "Then suddenly, that was it. It was kind of off in a small way, and I just went from there," she said.
Stinton has local designs for Kingston, Richmond, Shepperton, Teddington, Twickenham and Weybridge.
She has also created a series of Thames path national trail prints. These come in three forms of a map, tick list for people to mark sections they have walked and a personalised print with the dates they completed it. "I hope that will inspire people to actually walk the Thames path national trail because it is lovely," she said.

Keeping things local
All her work is printed locally in Farnham on recycled, part-recycled or sustainably sourced paper. In addition, the inks are eco-solvent or vegetable inks and packed in biodegradable, compostable bags. "That was really important to me actually. I want to keep it as local as possible. I want to keep it as environmentally friendly as possible," she said.
For many, this year has been "absolutely awful", but it gave her an opportunity. "What it made me do was just stop being so insanely busy all the time and take a breather and work out what I wanted to do with my life, which isn't necessarily one thing it's several different creative things. It also enabled me to love the river again," she said.
Stinton is currently selling her work on Etsy – Wordbirdco. Her prints will also be on sale at Handmade Festival Online, which is normally hosted by Hampton Court Palace with Kirsty Allsop, from November 27 to 29.