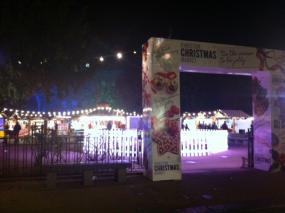 Traders in the local Christmas market have seen profits drop by nearly a third after the Council changed the location of the market. 
The Kingston Christmas Market usually takes place in the ancient market place, but for 2013, it had been relocated to the Memorial Gardens on Union Street causing dismay to traders.
George Gregory, the owner of Keston Events said: "The businesses are currently struggling because of the location which has caught the traders off-guard and has caused a fall in profit in comparison to last year.
"Kingston Council and Kingston First have failed to adequately promote the area" he added.
The area had been advertised to quality traders by Kingston First as a prime town centre location, however, many market traders said they were struggling to make profit this year.
Martina, shopkeeper of Hansel and Gretal, said: "It has been very stressful because of the lack of customers we have been receiving, however, I am hopeful it will get better when the holidays start."
A new Facebook page as well as bright signs and leaflets around the area will be used to advertise the market and help draw in shoppers.
Students will recieve discounted rates on products to try and entice those going to Kingston University.
However, no further action to help promote the Christmas market by the Kingston Council and by Kingston First has been taken at this time.