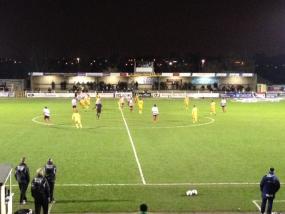 The K's put on a dominating second half performance on Tuesday night that saw them progress to the next round of the Surrey Senior Cup, beating Sutton United 1-0 following a Josh Casey goal. 
At Sutton's Gander Green Lane, deep into the second half, on 76 minutes, a chipped ball between the two centre backs put Casey through on goal. The midfielder held his nerve to slot it past the keeper and into the net.
From here, the K's confidence grew as they continued to push deeper into Sutton's half. Their persistence paid off as they earned a free kick on the edge of the box with just minutes to go.
Tommy Kavanagh whipped it over the wall and the ball was somehow bundled off the line and past the post, leaving the travelling fans without a coveted second.
It wasn't all plain sailing though, with the K's looking rather lax in the first half.
Things went from bad to worse in the 21st minute after star striker Andre McCollin took a hit and had to be subbed for Daniel Sweeney.
The K's adapted though and Casey soon took to the role of playing further up the field, beating the keeper and having a shot cleared off the line on the 23rd minute.
After that though, Sutton continued to push and looked dangerous on the break, often being allowed far too much time in the box.
Rob Tolfrey in the K's net had another outstanding game, keeping the K's in it. He tipped a few shots over and another wide.
Sutton made their three changes, taking off Binns at half time, with Jamie Taylor and Simon Downer following later. This changed the flow of the game with Sutton no longer breaking down the left but constantly forcing the ball to the right.
K's made their second change shortly after the Sutton changes, switching Sam Page for Sean Ray.
Overall this was a strong performance from the K's away from home, showing that they can punch above their weight, even with a small number of away fans.
The match attendance was 246 and man of the match went to Simon Downer of Sutton United.
Kingstonian play Cray Wanderers this Saturday at home, hoping to continue their good form. Follow @CourierKingston for more details.