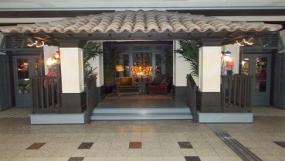 Bentall Centre's Hollister clothing store has been targeted by shoplifters attracted to the "dark environment" in store.
Incidents of shoplifting are infrequent in the Bentall Centre as a whole, compared with the large number of cases in the ground-floor Hollister shop.
A security officer at the Bentall Centre; employed to look after the shopping centre, not the activity of individual shops, blamed the "dark environment" in store.
The centre as a whole records one or two incidents of shoplifting a week, but Hollister records three incidents of shoplifting a week in which the offenders have been confronted. The store manager for Hollister admitted seeing customers shoplifting every single day of the week.
The store records losses of 155 units a week, 70 per cent from shoplifting, while 25 per cent is through employee theft and 5 per cent through operational losses.
Hollister has often been criticised for the dim lighting in its stores. The issue has become so renowned that candidly named Facebook groups have been created in protest: "Hi welcome to Hollister, Would you like a flashlight?" and "Hollister. You're a store, not a maze. Turn the lights on."
Hollister, however, does not plan to change its lighting policy and refuses to hire security officers for their stores. Instead they seek to combat loss through offering "great customer service and a friendly environment".
Representatives for Hollister state that "we want a relaxing and cool environment to shop in".
The store manager said one reason for the high number of incidents was that Hollister is such a "desirable brand".
The high-priced clothing store showed no sign of concern over the rates of incidents and continues to make a profit.