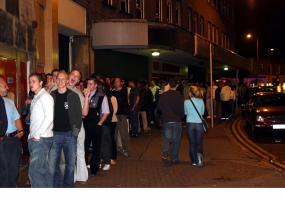 Kingston nightclub Barcadia had its licence revoked yesterday after a string of violent incidents occurred in and around the premises last year.
The decision comes just weeks after neighbouring club Essence was shut down when a 30-man-brawl outside left a victim hospitalised.
The licencing committee initially suspended Barcadia's license after a customer was stabbed in the neck with a champagne glass at the venue on December 24.
Giving evidence at the meeting yesterday, PC Kevin Hyde, said: "The gentleman who was glassed was very fortunate.
"I do not have confidence in the management of Barcadia."
The nightclub came under scrutiny after four cases of grievous bodily harm were reported to come from Barcadia in Clarence Street during the month of December.
One of these incidents included an assault outside Kingston Railway Station on December 10, which the defence stressed was not the responsibility of the Barcadia management team.
In reaction to the decision, Huseyin Sanli, the owner of Barcadia, said: "After what I've seen and heard today, I don't understand, we just wanted fair treatment, we didn't ask for a special favour, nobody got killed here.
"To be honest nobody was expecting this, including the police, but the councillors didn't lift our suspension."
The nightclub is popular among residents and business owners in Kingston who recently sent a number of letters to the council imploring them to lift the suspension.
But Kingston Police stressed that the bar was a drain on police resources and that the management could not be trusted.
Kingston Police Inspector Charlie Aitken, complained that after the incident on December 24: "The club was still in full swing. People were dancing and drinks were still being served."
The defence acknowledged that the bar should have been closed immediately after the incident had taken place, but maintained that the police report was inaccurate.
Chairing the meeting, Councillor Stephen Brister, said: "We are bound to take the word of the police as truth."
After the decision, Mr Sanli said he would appeal the decision at the Magistrates Court.
He said: "We're going to appeal to the Magistrates, because we won the argument today, and we still got [our licence] revoked."
Police statistics show that 20 percent of violent and sexual offences in Kingston between May and November 2013 occurred in Clarence Street, which houses both Barcadia and Pryzm.
Image courtesey of REX Features